Oxnard Car Accident Lawyers
Car Accidents in California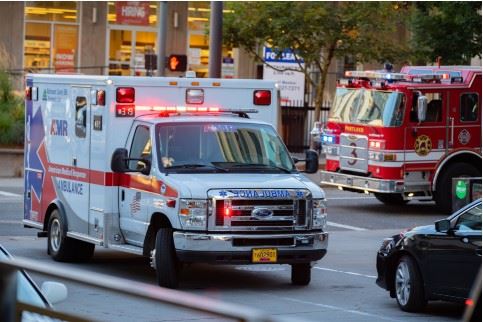 Accidents involving motor vehicles are among the most prevalent causes for personal injury claims in the United States. According to the National Highway Traffic Safety Administration (NHTSA), in the state of California alone, more than 3,600 people were killed in car accidents in 2019.
Common Causes of Car Accidents
Many car accidents are caused in whole or in part by negligence or indiscretion on the part of one driver. Some of the most common contributing factors of auto accidents include:
Driver fatigue / falling asleep at the wheel
Texting or talking on the phone while driving
Eating while driving
Driving above the speed limit
Driving too fast for conditions
Reckless driving
Driving under the influence of drugs or alcohol
You should not have to pay for the recklessness or irresponsibility of another driver. If you were hurt in a car accident, or if you know someone who was hurt in a car accident in Ventura County, California, you deserve strong legal advocacy. The Oxnard car accident lawyer you hire could make all the difference in the outcome of your case.
Choose the representation of a skilled car accident attorney in Oxnard from The Schurmer Firm who can help you move forward after a serious injury or wrongful death incident. Contact us by calling (805) 470-1628 today to learn more about your options!
What are the Most Common Types of Car Accidents?
There are several different types of car accidents that commonly lead to injury, and can sometimes even be fatal.
Rollover accidents
T-Bone accidents
Rear-end accidents
Head-on collisions
Chain-reaction accidents
Single vehicle accidents
No matter what kind of accident you have been in or what kind of injuries you have sustained, our team is ready to fight on your behalf to ensure you get the compensation you deserve.
What to do After a Car Accident
If you have been in an accident, there are steps you should take to ensure that you do not admit to fault that is not yours. Take note of the steps below for what to do in this situation. It is crucial that you follow these in order to avoid further complications in an auto accident.
Call 911. Request that they come to the scene and prepare a traffic collision report.
Call emergency personnel. If you have been injured, it is important that you receive prompt medical attention.
Get the other driver's information. Name, address, phone number, date of birth and driver's license number. Write down the other driver's insurance information including policy number, company name, and phone number.
Get other driver's vehicle information. Gather license plate, year, make and model information.
Collect information from any witnesses. Include their names, addresses, phone numbers, and e-mail addresses.
Take photos of the scene of the accident. Pictures of damage to all vehicles in the accident, skid marks on the road, debris and other visible evidence. If at all possible take pictures of the vehicles at their points of rest before they are moved.
Do not give any statements to any insurance company until you have first spoken to us. The insurance company is not your friend and will try and obtain any information they can to damage your case.
How is Fault Determined in a Car Accident Case?
Should I Consult a Lawyer After a Car Accident?
When you're seriously injured in an auto accident, an experienced attorney will help you obtain your rightful compensation. When an attorney takes your case, they promise to fight for you and handle your medical bills and lost wages while also negotiating with insurance companies.
Even if you're not hurt, making sense of overlapping insurance claims can be tricky. Additionally, as California is an at-fault state, someone has to take the blame for every accident. If you fear the insurance companies are placing the fault on you, your auto injury attorney can examine the evidence and help you avoid the traps of aggressive insurance interviews.
On the other hand, you may not need representation under certain conditions. If you were not at fault for the accident, you were uninjured, and your car was more than ten years old, the amount you'd earn from a settlement in small claims court may not be worth the time spent speaking with an attorney.
What Can A Car Accident Attorney Do?
People injured in an auto accident usually earn more compensation when they hire an attorney. That can make a big difference when it comes to paying medical bills and getting vehicle repairs. Moreover, your attorney handles everything for you.
An experienced auto injury attorney takes the stressful paperwork and interviews out of the equation so you can focus on rest and recovery. Best of all, you don't pay unless they earn your just compensation.
When Should I Hire a Car Accident Attorney?
It is important to hire an attorney as soon as possible after a car accident in Ventura, Oxnard or the surrounding area. This will help you ensure that all evidence is preserved and all relevant witnesses are interviewed in a timely manner. With the help of an experienced car accident lawyer, you can safeguard your rights and protect yourself from any allegations of fault or negligence.
It is crucial to hire a car accident lawyer in Ventura as soon as possible after being involved in a car accident in the area. One of the key reasons is to ensure the preservation of valuable evidence. An experienced car accident attorney understands the importance of preserving evidence, such as photographs of the accident scene, vehicle damage, and any other relevant physical evidence. They can swiftly gather this evidence before it gets lost, altered, or destroyed.
Moreover, your car accident lawyer in Ventura will recognize the significance of promptly interviewing witnesses. Memories can fade, and witness availability may change over time. By involving an attorney early on, they can promptly reach out to witnesses, obtain their statements, and capture their recollections while they are still fresh and accurate. These witness testimonies can play a crucial role in establishing the facts of the accident and supporting your case.
In addition to evidence preservation and witness statements, hiring a car accident lawyer immediately after the accident is essential to protect your rights and shield yourself from any allegations of fault or negligence. Insurance companies may attempt to shift blame onto you or undervalue your claim. With an attorney by your side, you can ensure that your rights are upheld, and your best interests are protected throughout the legal process. They understand the tactics often employed by insurance adjusters and can skillfully negotiate with them to maximize your compensation. Your lawyer's expertise in assessing the value of your claim, considering factors such as medical expenses, lost wages, pain and suffering, and future damages, ensures that you receive a fair settlement.
In conclusion, hiring a car accident attorney near you immediately after an accident provides you with several advantages. By hiring an attorney promptly, you increase your chances of obtaining fair compensation and navigating the legal process successfully after a car accident in Ventura or Oxnard.
"The attorneys are very professional and their staff are very pleasant and always available to help."

- Bereniz R.

"He is a very good attorney!"

- Brett H.

"I Am Truly Grateful"

- Nordella

"From the first contact with the office staff to meeting with Lauren Wood and Earl Schurmer to go over details of my accident, I was immediately impressed with the knowledge, care, and follow up regarding my case."

- Scott C.
What Is a Fair Settlement Offer for a Car Accident?
In most car accident cases, the insurance company will reach out to you shortly after your accident to offer you a settlement. While it may be tempting to accept their first offer, it's important that you determine whether or not the compensation you are being offered is fair.
A fair settlement will seek to compensate you for the following:
Medical bills
Lost wages
Missed work
Therapy/rehabilitation
Pain and suffering
The best way to determine what a fair settlement would be for your accident is to discuss your claim with a professional car accident lawyer. Our firm offers free initial consultations, so don't hesitate to contact us today!
Related Reading:
Call The Schurmer Firm today for Tough Advocacy!
Our firm has been serving clients in Oxnard, Ventura, and all of Southern California since 1968. We understand how to protect your rights at this time and we are prepared to lend the effective advocacy you need and deserve. For strong representation when it counts, call our Oxnard car accident lawyers at The Schurmer Firm. We offer free case evaluations, so there is no risk associated with finding out whether or not an attorney from our firm could help you and no reason to wait before calling!
Contact our car accident lawyers in Oxnard by calling (805) 470-1628today to schedule your free case evaluation!
The Schurmer Firm
Our firm's personal promise and commitment to you is to make sure that we care about you as a person. Every client who has been injured deserves the proper representation and our goal at The Schurmer Firm is to ensure that they get that.
Decades of Experience
Millions of Dollars Recovered
$2.25 Million Brain Injury

Settlement for a baby who suffered a brain injury due to the medical negligence of nurses and physicians.

$1 Million Policy Limit Settlement

Settlement for man and wife rear-ended by a truck on the freeway.

$165,000 Failure to Diagnose

A physician failed to appropriately recognize, diagnose and treat an ankle fracture.