Recently The Schurmer Firm represented an elderly woman who was injured while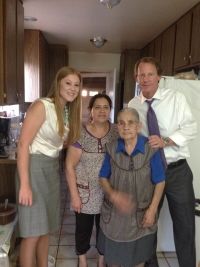 walking through the parking lot of a local store. The fall was caused by large uneven walking ground and hazardous cracks that created height differentials, making it very dangerous to walk. As a result of the uneven walking surface, the client fell and sustained a serious injury including the fracture and dislocation of her left arm.
The patient had to undergo two non-surgical attempts including an open reduction and an internal fixation with instrumentation to mend the fracture in her arm. Unfortunately, the injury never fully healed and our client had to undergo a second operation a few months later.
Our Oxnard personal injury lawyers have a driving to passion to help people in their time of need and to stand up for the rights of personal injury victims and their families. Our firm took on this woman's case and we were able to settle her case and recover compensation on her behalf.
As a sweet thank you, the client later invited our lead Attorneys Earl Schurmer and Lauren Wood over to her home for a thank-you meal to show her gratitude. It is gestures like this and clients like her that make our job so rewarding.
If you or someone close to you has been seriously injured in Oxnard or anywhere in Southern California, be sure to reach out to us before it is too late. Our legal team here at The Law Offices of Schurmer & Drane can help work to recover the compensation that you are legally entitled to. Call us today at (805) 470-1628 to schedule a free initial consultation. Our lawyers are standing by ready to help you!